Exploring the Challenges and Opportunities in Cold Chain Market
The e-commerce industry is growing rapidly in the Asia Pacific region, which is driving the demand for cold chain logistics for the last-mile delivery of temperature-sensitive products, such as fresh food, pharmaceuticals, and other products.
The cold chain market refers to the management and transportation of temperature-sensitive products, such as food, pharmaceuticals, and vaccines, in a controlled environment to maintain their quality and safety. The cold chain includes a series of refrigerated production, storage, and distribution processes, ensuring that the products are kept at the required temperature range from the point of origin to the final destination. The demand for cold chain logistics has been increasing due to the growing global population, expanding trade activities, and the need for safe and efficient transportation of perishable goods. The market includes various players, such as transportation providers, warehousing companies, and technology solution providers, working together to ensure the smooth flow of goods within the cold chain.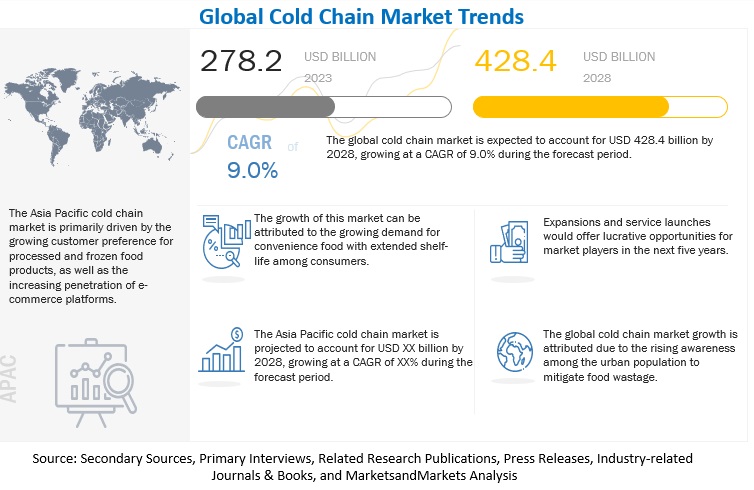 The cold chain market is set to freeze its competition in the coming years, with an anticipated value of USD 278.2 billion by 2023. This is only the tip of the iceberg, as the market is expected to maintain a steady growth rate of 9.0% CAGR, potentially reaching a cool USD 428.4 billion by 2028. With an increasing demand for temperature-controlled logistics, advancements in technology, and a focus on sustainability, the cold chain market is poised to carve out a significant portion of the logistics industry. So, get ready to chill out and witness the rise of the cold chain market in the years to come.
There are several trends in the cold chain market that are shaping the industry and driving growth. Some of the notable trends include:
Increasing demand for temperature-sensitive drugs and vaccines: With the COVID-19 pandemic, there has been a surge in demand for cold chain logistics to transport temperature-sensitive drugs and vaccines. The trend is expected to continue, especially with the growing demand for biologics and gene therapies that require temperature-controlled shipping.
Advancements in technology: The use of advanced technologies such as IoT sensors, RFID, and blockchain is improving visibility and control over the cold chain. These technologies help to track the location, temperature, and condition of goods in real-time, enabling better decision-making and reducing the risk of spoilage.Sustainability initiatives: There is a growing focus on sustainable practices in the cold chain industry, with companies adopting measures to reduce their carbon footprint. This includes using renewable energy sources, optimizing transportation routes, and minimizing waste.
Increasing adoption of automation: Automation is being adopted in various areas of the cold chain, such as sorting, packing, and storage. This helps to improve efficiency, reduce errors, and lower costs.
Growth in e-commerce: The rise of e-commerce has led to a surge in demand for cold chain logistics, especially for the delivery of perishable goods such as fresh food and meal kits. This trend is expected to continue, with more companies entering the market and expanding their offerings.Overall, the cold chain market is experiencing significant growth and innovation, driven by advancements in technology, increasing demand for temperature-sensitive products, and a growing focus on sustainability.
Schedule a call with one of our analysts to fit your specific requirements
Asia Pacific is projected to achieve the Highest CAGR growth in the cold chain market.
According to the OECD-FAO agricultural outlook 2021-2030, Asia Pacific is the largest producer of agricultural commodities, and the total value of production is expected to expand by 20% by 2030 relative to the 2018-20 base level. Asia Pacific accounted for nearly 45% of the global agricultural land in 2020, according to the FAO. Agricultural activities in this region are supported by average climatic conditions, which enable multiple crops growing sessions in a year. Refrigeration are crucial in reducing the rate of degradation of produces, extending the shelf life and maintaining the integrity of the food chain. The demand for cold chain market was created as a result of the pressure on storing and protecting agricultural products in this region.
About MarketsandMarkets™
MarketsandMarkets™ is a blue ocean alternative in growth consulting and program management, leveraging a man-machine offering to drive supernormal growth for progressive organizations in the B2B space. We have the widest lens on emerging technologies, making us proficient in co-creating supernormal growth for clients.
The B2B economy is witnessing the emergence of $25 trillion of new revenue streams that are substituting existing revenue streams in this decade alone. We work with clients on growth programs, helping them monetize this $25 trillion opportunity through our service lines – TAM Expansion, Go-to-Market (GTM) Strategy to Execution, Market Share Gain, Account Enablement, and Thought Leadership Marketing.
Built on the 'GIVE Growth' principle, we work with several Forbes Global 2000 B2B companies – helping them stay relevant in a disruptive ecosystem. Our insights and strategies are molded by our industry experts, cutting-edge AI-powered Market Intelligence Cloud, and years of research. The KnowledgeStore™ (our Market Intelligence Cloud) integrates our research, facilitates an analysis of interconnections through a set of applications, helping clients look at the entire ecosystem and understand the revenue shifts happening in their industry.
Media Contact
Company Name: MarketsandMarkets™ Research Private Ltd.
Contact Person: Mr. Aashish Mehra
Email: Send Email
Phone: 18886006441
Address:630 Dundee Road Suite 430
City: Northbrook
State: IL 60062
Country: United States
Website: https://www.marketsandmarkets.com/Market-Reports/cold-chains-frozen-food-market-811.html