DelicateSoft Launches Cheque Printing Software For Business & Startups in UAE
DelicateSoft is proud to announce the launch of its Cheque Printing Software, a revolutionary tool that helps businesses in UAE print cheques instead of writing them by hand. This software is specifically designed to simplify the process of printing cheques with accuracy and speed. It also offers a range of features that make it one of the best cheque printing software in the UAE. With this software, businesses can easily manage their accounts and keep track of their payments without any hassle. The user-friendly interface makes it easy to use, even for those who are new to using such tools.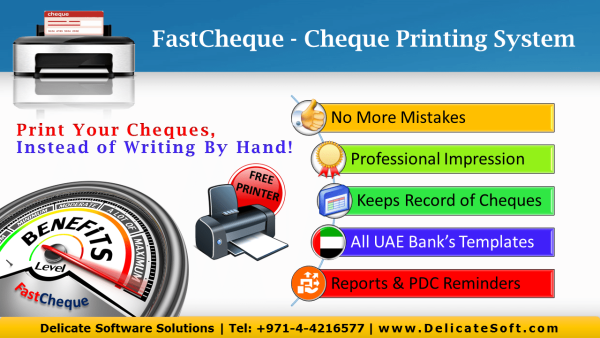 CHEQUE PRINTING SOFTWARE FEATURES:
Print Cheques of any size & any bank, Instead of writing by hand.
No Mistakes, Auto Converts Amount numbers to words.
Batch cheque printing for installment cheques.
Get PDC Reminders and Print Payment Voucher.
Predefined UAE Banks.
Print Cheques in English and Arabic Language.
Reports of Issued cheques by banks and parties.
Major Benefits of Using Cheque Printing Software:
1. Print Cheques of Any Bank: With FastCheque, you can print cheques of any bank and every size. All UAE banks are already listed in this software. System can print cheque parameters on accurate places as per defined cheque template design. You can add unlimited new bank accounts and can even change the design template by yourself.
2. Comprehensive Reporting: You can track the cheque details using our intelligent cheque reporting module. You can generate reports in between any two dates, Bank wise, Party wise. All reports are re-designable easily. You can choose columns which you like & put your Company Logo etc by yourself. you can print cheque reports or export to excel or pdf file.
3. User Friendly Cheque Printing System: It just takes 10 Minutes to learn and start printing cheques with this software. The User interface is Polished with years of experience and feedback from 1000s of existing customers. You will love the user interface. Even this cheque printing software is very easy to use, we provide training video, so the new user will be dependent on us.
Video Link: https://www.youtube.com/embed/JGXnB4-Et30
Media Contact
Company Name: Delicate Software Solutions
Contact Person: Balbir Singh
Email: Send Email
Phone: +971-52-9957352
Country: United Arab Emirates
Website: https://delicatesoft.com