Maximbady Emerges As The Social Media Sensation In 2023
Maximbady has become a global comedy sensation with 11 Million Social Media Followers and a unique comedy style that will make audiences laugh out loud.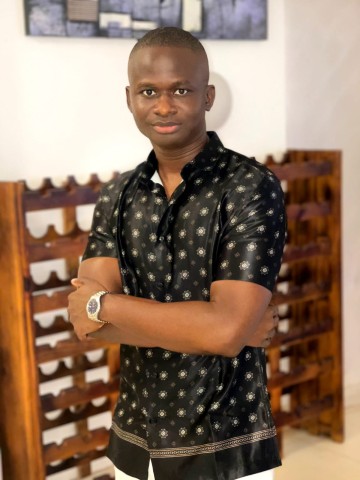 In 2012, the internet observed the birth of one of the most hysterical comedians ever seen across social media. Maximbady, real name Lamin Touray has captured the hearts of his fans across the globe with his uproarious human, unique catchphrase, unparalleled comedic style, and infectious smile.
Hailing from The Gambia, Maximbady currently resides in Birmingham, United Kingdom. He started his journey into the comedy world by posting entertaining and hilarious pictures and short videos on social media platforms, mostly Facebook. Over the years, his fan base has grown to over an astounding 11 Million, with his following coming from Facebook where he boasts over 4.4 Million followers. His TikTok and Instagram accounts have also amassed a staggering 3.5 & 1.1 Million followers quickly.
Maximbady's YouTube channel has gained much popularity since its inception in 2012 and its growth has been nothing short of extraordinary. With over 250 Million views and counting, his videos have attracted more than 2.4 Million admirers and loyal fans. Among his many viral hits, his most viewed video on YouTube, "Best Song Ever Created MaximBady," is a fan favorite and has gathered over 11 Million views.
Maximbady's comedic genius is not limited to just words; his unmatched body language and facial expressions set his comedic style apart from today's contemporary comedians. He is a complete package for laughter and entertainment, his hallmark catchphrases, such as "Jesus Christ on a motorbike" and "Ladies and Gentlemen, I think my brain committed suicide," have become iconic among his fans, who eagerly await his every performance.
Multiple brands and advertisers have noticed his comedic brilliance and talent. His huge fan following has earned him the position of an influential internet celebrity who has the ability to earn millions of dollars through social media advertising. His down-to-earth persona and transparent communication have helped him to develop partnerships with numerous brands and companies.
Maximbady attributes his achievement and success to the continuous support from his fan base across the globe, who have supported him through thick and thin, laughing along in his joyous journey. Driven by his unwavering passion for comedy and the desire to bring joy to people's lives, he remains committed to exploring fresh avenues to entertain and forge connections with his audience.
Maximbady's infectious energy and relentless pursuit of laughter position him on a trajectory toward becoming an enduring comedy icon, leaving a lasting mark in the world of humor.
About Maximbady:
Lamin Touray, aka Maximbady, is a renowned social media influencer and comedian who gained popularity in 2012. He was born in The Gambia but later shifted to Birmingham, United Kingdom. He has gained over 11 Million followers across all social media platforms. His unique comedic style, filled with body and facial expression comedy, has transformed him into the internet's most beloved and hilarious personality.
Media Contact
Company Name: Maximbady
Contact Person: Lamin Touray aka Maximbady
Email: Send Email
City: Birmingham
State: West Midlands
Country: United Kingdom
Website: instagram.com/maximbadytouray#